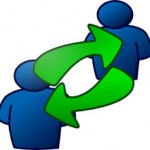 Sometimes we teachers think we help law students by informing them on the best way of learning in law school. There is a better way. Let other students tell them. I saw the other day a nice example of this.
Even better is to invite a student who is more advanced in his study and let him/her give a presentation before the class on how to study best. The effect is enhanced if the teacher is not present in class during this presentation. It gives students the opportunity to ask "painful" and "embarrassing" question to the presenter.
The impact of the presenter's message is much higher than of a similar message delivered by the teacher.